I can't believe I finally get to share this room with you guys! This space has been such a labor of love for our little guy and I just really wanted to make it perfect…which is probably why it's taken so long to finish;) As soon as we bought this house 4 years ago, I always dreamed in the back of my mind what I would do with this room once the time had come for it to turn from a guest room to a nursery.
I couldn't be more excited to have had the honor of working with Raymour & Flanigan on this room. They were such a pleasure to work with, had a great selection of baby & kids furniture at amazing price points and were super helpful from picking out the pieces to setting up delivery.
onto the pictures!…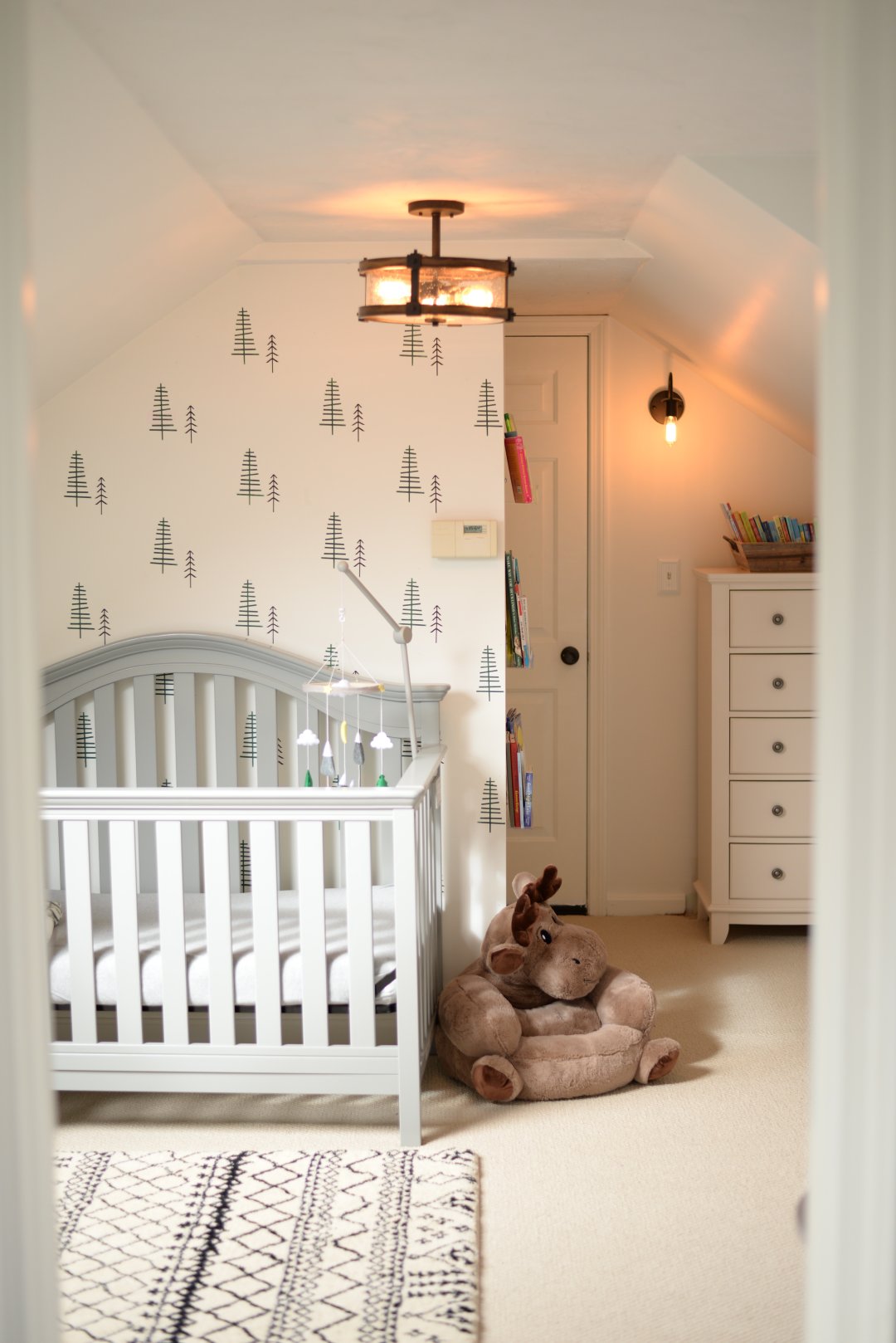 My husband and I both love New Hampshire. We got engaged and married at Lake Sunapee and spend every summer with his family there. Needless to say, a nursery that had that rustic outdoorsy New Hampshire vibe seemed perfect as soon as we found out we were having a boy.
For my baby shower, we had guests bring a favorite baby book (new or used) to sign instead of a card. I loved this idea and now baby boy has a HUGE book collection already lol. These acrylic book ledges work great for freeing up space, looking cute on the wall and providing lots of easy access book storage.
We decided on keeping the full size bed in the room for practical reasons. Our master bedroom is on the first floor, and the nursery is on the second, so I like the idea of having an extra bed up there just incase there are any nights my husband and I need to sleep upstairs with the baby (if he's sick or anything like that). For now he will be in a bassinet in our room. I also like having the space for our mothers or any guests staying over.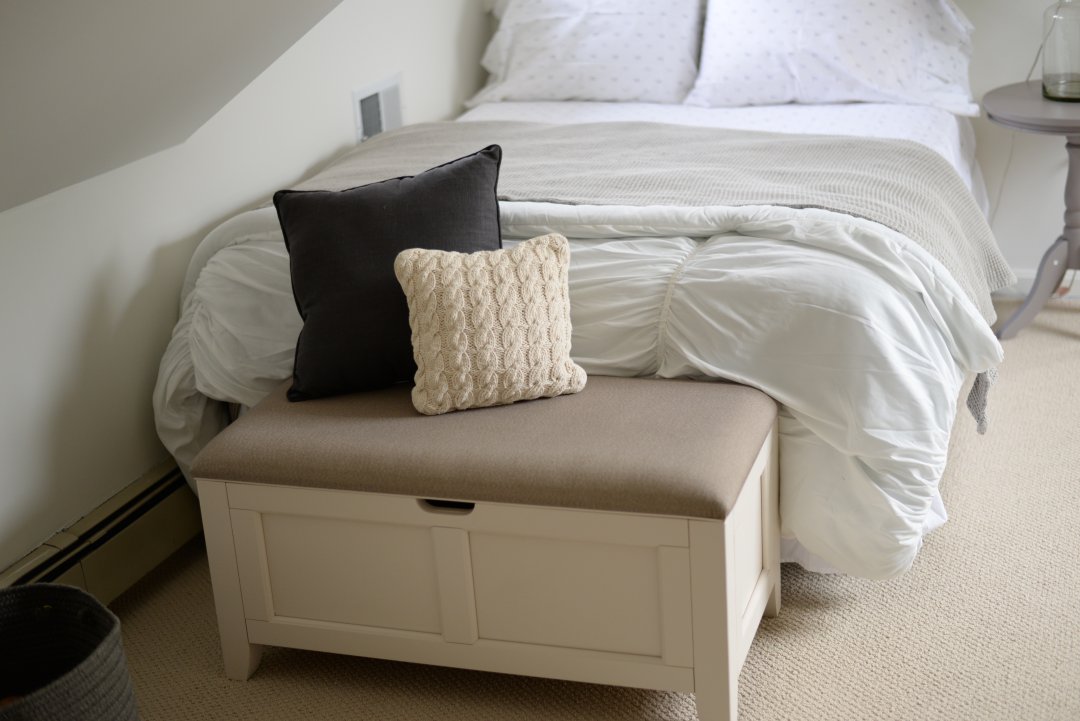 This storage bench ties in the rest of the furniture while also providing extra storage for toys or blankets.
The antique license plate was a find at an antique shop while in New Hampshire over the summer. We had just found out we were pregnant and my husband collects old license plates- I figured if it was a boy it would be a cute addition to a nursery and if not, I could just give to my husband to add to his collection. I'm so happy I got it because it fits perfectly in this space! The little wooden canoe shelf was another New Hampshire find at a yard sale in the little lake town we stay at. The little Boston Bruins wooden people were actually our cake toppers from our wedding:)
Lighting was probably the biggest frustration as far as picking things out. I was trying to save money by shopping online without seeing the item before hand and ended up with a cheaper flushmount we ended up hating when it got delivered.  We found this one from Lowes, and even though it was twice the price, I love it so much more.  On the other hand, the sconce was a $15 Amazon find that was a "shopping online gone right."
The pine tree decals are actually custom make by my friend Sonya over at Birch and Barrow Co. I used the design of the throw blanket (featured laying on the crib) as our inspo and then Sonya used a Cricut to design and print the decals then painted them onto the wall after we decided on a layout. I couldn't be happier with how it came out! We love you Auntie Sonya!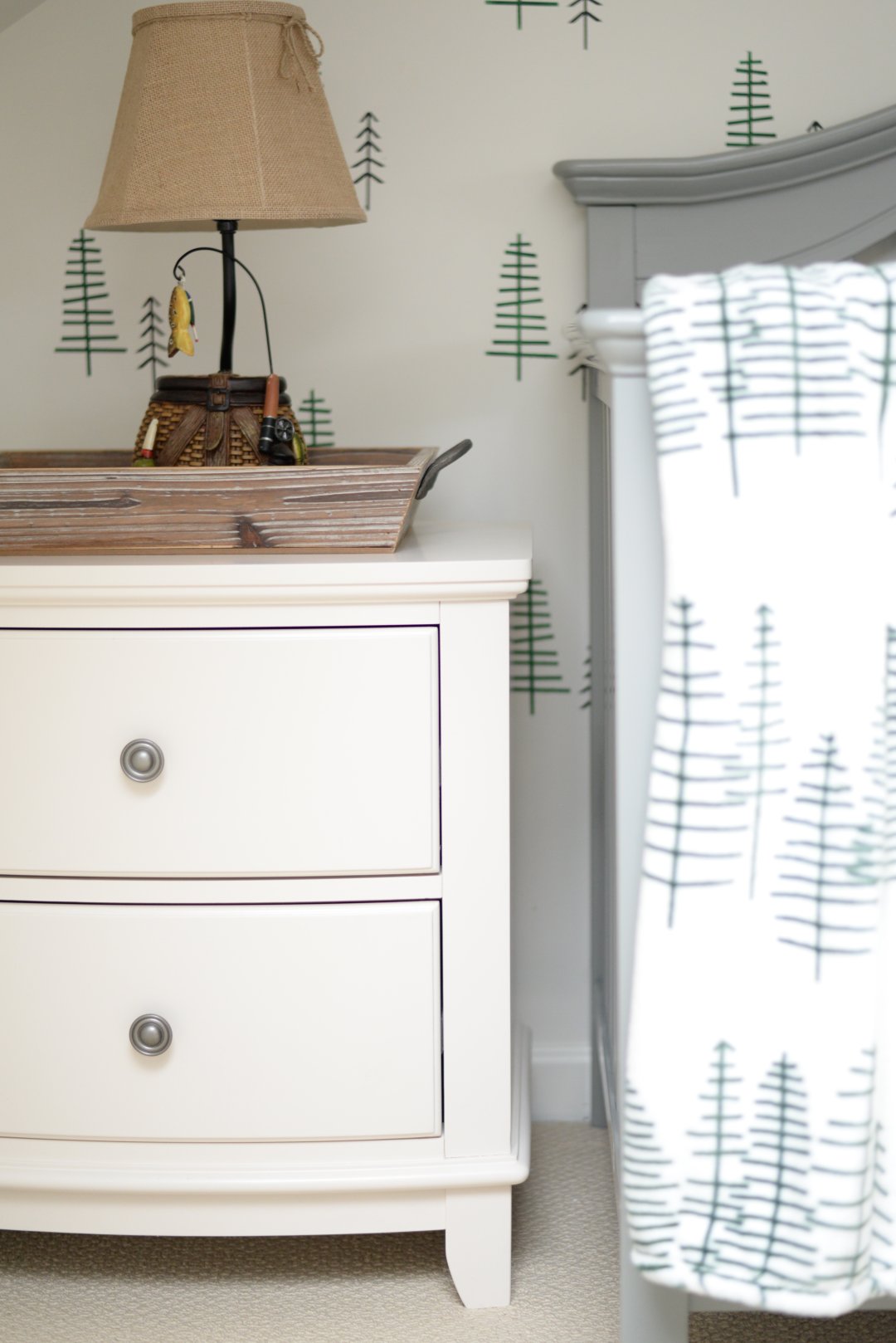 When shopping for nursery furniture, I knew I wanted pieces that were classic, timeless and gender neutral so that we could reuse them for the second baby no matter the gender. Raymour & Flanigan had an amazing selection of timeless cribs, gliders and kids furniture that grow with your child and can easily be mixed in with any decor. I have to say, the part I was most blown away with was their customer service. As soon as I walked into their showroom I felt like I got the sales women's undivided attention….she was patient and kind and I felt like she genuinely cared- which is hard to come by these days! She even helped with the pieces I needed to order online and assured me of their amazing return policy incase anything didn't work out. I couldn't recommend Raymour & Flanigan more and will 100% be returning for future buying.
Here are some tips I picked up while shopping for nursery furniture:
Shop for the big pieces (crib, dresser, changer, glider etc) before you find out the gender. That way you won't be swayed wither way and will more likely end up with neutral pieces that you can get the most use out of.
Don't wait until the last minute. I found shopping earlier in my pregnancy (around second trimester), before I was in my third trimester and exhausted helped me have a clearer head and it was less stressful knowing I at least had that checked off my list. That also gives you more time to make returns or exchanged if need be and fuss over the fun decor and details. Also, you won't feel like doing much of anything once the third trimester comes around!
Check return policies. There were some pieces that ended up not fitting in the space even though we measured. We ended up keeping them anyways because we loved them in other areas (more on that coming up in anther blog post;) but it was nice to know they could have easily been returned or exchanged if need be.
Here are the links to all the products and decor from Raymour & Flanigan
Crib (This exact crib is no longer available but it was called the "Caiden" by Graco) Here's another one of my favorites and how cool is their new "hollywood" crib? Perfect for a chic nursery.
Thank you to Raymour & Flanigan for sponsoring this post. I only work with brands I genuinely love and use in my every day life…as always, all opinions are my own.
xoxo, Layla